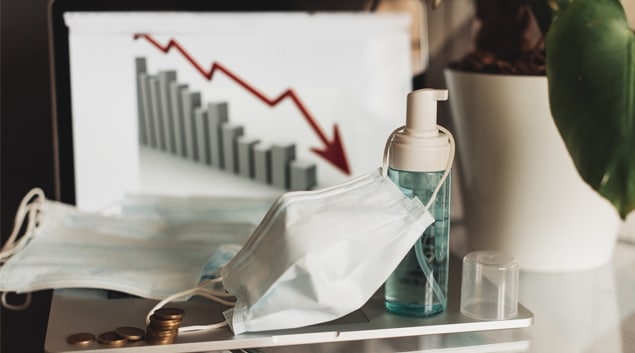 Most insurers do not yet have a specific estimate of how much premiums might change due to COVID-19.
The COVID-19 pandemic has caused financial hardship among the nation's hospitals, but insurers have fared a bit better. A Kaiser Family Foundation analysis found that insurers on the individual market remained profitable during the first three months of the year, due in part to the very things that are causing headaches for providers: declines in routine care and the cessation of elective procedures.
Gross profit margins for insurers are up during the first quarter, but the coronavirus' still-unknown effect on premiums makes the future uncertain. The most significant impacts of the outbreak and economic crisis on the individual market will likely not be known until second- and third-quarter data trickles in.
What's the impact?
Learn on-demand, earn credit, find products and solutions.
Declines in utilization have contributed to sustained insurer profitability, with some voluntarily waiving cost-sharing for COVID-9 treatments. Many in the individual market have seen high claims costs for treatments and testing, but they've also seen claims fall for routine care and elective procedures.
On net, claims per enrollee grew by an average of about 3%. In-person premiums grew by 7% during the quarter, compared to the first quarter of 2020.
Overall, there was a per-member, per-month average gross margin of $156, compared to $134 in 2019.
But average physician encounters, which stood at 548 per 1,000 enrollees during the first quarter of 2019, dipped to 484 during the same period this year.
There are reasons to suspect more significant changes in the second and third quarters, Kaiser found. Enrollment in individual market plans may have increased since March, as people losing job-based coverage may have moved onto the individual market. CMS recently reported that, since the end of the open enrollment period in December, 487,000 consumers have enrolled in plans through HealthCare.gov after qualifying for a Special Enrollment Period following the loss of other qualifying health coverage.
Second quarter data for 2020 may also show more changes in utilization among individual market enrollees, as other data has shown healthcare utilization dropped sharply in late March through mid-April due to social distancing and fears of contracting the virus, although some services began to return by late April and May.
Insurers have begun to submit their 2021 premiums to state regulators for review. Most insurers have said they expect the pandemic to have complex effects on premiums, but many do not yet have a specific estimate of how much premiums might change due to COVID-19. It therefore remains to be seen how continued uncertainty around the coronavirus pandemic and the economic crisis may affect premiums and plan participation in 2021 or beyond.
The Larger Trend
The COVID-19 pandemic's postponement of elective surgeries and regular care has created a surplus in revenue for insurers due to lower spending.
In June, The Kaiser Family Foundation estimated that insurers will be issuing a total of about $2.7 billion across all markets – nearly doubling the previous record high of $1.4 billion last year.
Many insurers are rebating this money now, rather than waiting for 2021 to create immediate value for members.